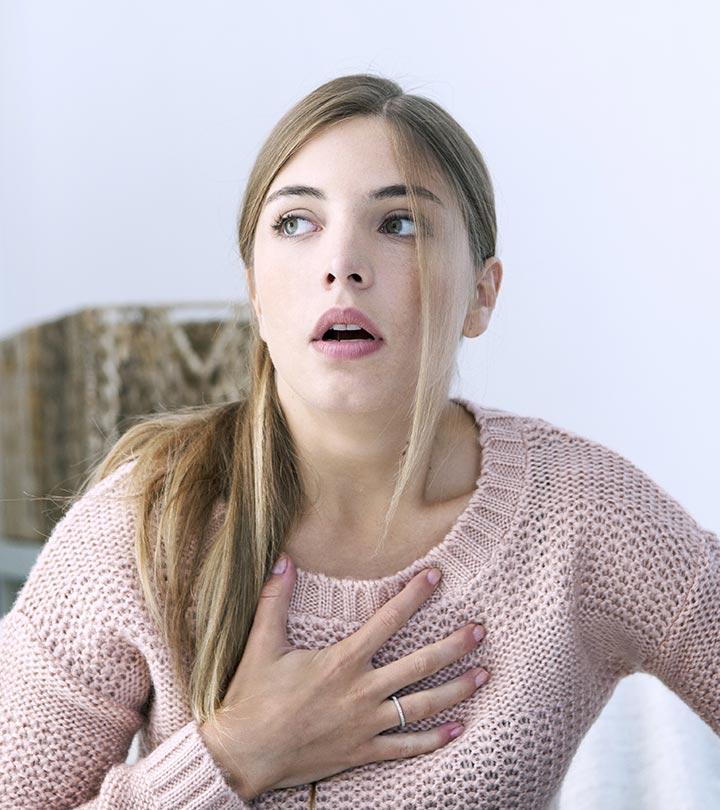 Whether it was the office party you attended or the wedding reception of a relative you simply couldn't miss, you gave in to your desire and gorged on the food like it was going out of style! And now, you feel your heart burning up in protest. Your stomach is on fire, you're uneasy, nauseous, and feel very, very uncomfortable. You, my friend, are down with a classic case of heartburn.
What Is Heartburn?
Although the name for this common ailment is heartburn, it technically has nothing to do with the heart. It is concerned with the gastrointestinal tract. The stomach contains strong acids to digest the food we eat. When this acid rises back into your esophagus, it stings the lining in your throat and causes a painful burning sensation in your chest and/or neck. This is called as heartburn. If you experience heartburn more than twice a week, then you might be suffering from a condition called gastroesophageal reflux disease (GERD) (2). Proper medical advice is recommended in this case.
How To Get Rid Of Heartburn?
Though it is very easily cured by an OTC antacid, some people are wary of going the 'chemical'way to soothe this acid reflux. And it's for these people that we have whipped up a list of 11 home remedies for heartburn to ease the discomfort.
Ease That Painful Heartburn With These Remedies
1. Baking Soda To Ease Heartburn
1/2 to 1 teaspoon of baking soda
A glass of water
Add the baking soda to the water and stir well.
Drink this water to ease the burning sensation caused by the heartburn.
Just a glass of this water should do the trick.
Baking soda, also called as sodium bicarbonate, is a natural antacid that alleviates the symptoms of heartburn and acid indigestion. It counteracts the stomach acid and pushes it back down into the stomach (3).
Regular usage of baking soda for heartburn is not recommended as baking soda contains very high amount of salt.
2. Vinegar To Get Rid Of Heartburn
1-2 teaspoons of apple cider vinegar
1 teaspoon honey
A glass of water
Add the vinegar and honey to the water and mix well.
Drink this mixture to ease the heartburn.
Have ACV water every day to reduce or totally eradicate the chances of heartburn.
Apple cider vinegar is one of best home remedies for heartburn. It is a tried and tested method employed by thousands of people across the globe to eliminate heartburn symptoms and also to prevent them from developing in the future. It is said to bring the gastric juices to a normal level (4).
3. Herbal Tea To Get Rid Of Heartburn
1 chamomile or green tea bag
A cup of hot water
Dip the tea bag in the hot water and let it steep for a few minutes.
Sip this herbal tea while it's warm.
When You Need To Do This
You can drink two to three cups of herbal tea.
Why This Works
Chamomile soothes gastrointestinal irritation and lowers gastric acidity, thus relieving you from the heartburn (6).
4. Milk To Ease Heartburn
8 oz of skimmed milk
Drink skimmed milk before going to bed or in between meals as a snack.
Have a glass or two of milk in a day.
Skimmed milk increases the pressure on the lower esophageal sphincter, thus relieving heartburn and also aiding in preventing it in the future (7).
Do not overdo this home remedy as excess amount of milk might make the heartburn condition worse.
5. Mustard To Get Rid Of Heartburn
1teaspoon of yellow mustard
Directly gulp down the mustard with a cup of water.
You can also add two teaspoons of mustard powder to a glass of buttermilk and drink it.
Use this remedy just when you sense a heartburn developing or even in the middle of one.
Mustard is alkaline in nature and neutralizes the stomach acid that rises up in your throat (8).
[ Read: Benefits And Uses Of Cordyceps ]
1 teaspoon of raw, organic honey
A glass of lukewarm water
Mix the honey well with lukewarm water and drink this an hour before you have your meals.
You can drink two to three glasses of this water to cure heartburn.
It soothes the damaged lining of the esophagus. It has anti-inflammatory properties that relieve pain in the throat and chest. Also, it contains potassium that restores the acid balance in the stomach (9).
7. Water To Get Rid Of Heartburn
A glass of cold water
When you sense a heartburn developing, drink a glass of cold water and take a small walk.
This is the first thing to do when you have a heartburn.
Cold water calms down the burning in your throat and chest. It will also stabilize the body fluids and alleviate the symptoms of heartburn.
Do not drink very chilled water.
8. Licorice Root To Get Rid Of Heartburn
Deglycyrrhizinated licorice root (DGL) tablets
Chew two tablets 20 minutes before meals.
Have these tablets thrice a day.
Licorice adds a protective coating on the esophagus and also the intestine, thus relieving the burning sensation from the stomach acid. It also has anti-inflammatory properties (8).
Make sure to use deglycyrrhizinated licorice as excessive glycyrrhizic acid can cause metabolic complications.
9. Almonds To Ease Heartburn
3-4 raw or roastedalmonds
After every meal, eat three to four almonds.
You can eat them after you ingest anything.
Include almonds in your daily diet for long-term relief from heartburn.
Almonds contain alkaline compounds that neutralize the stomach juices and help you to get rid of that annoying heartburn (10).
Do not eat them in large amounts.
10. Banana Or Apple To Get Rid Of Heartburn
A ripe banana or an apple
Eat either of the two fruits every day.
Bananas are better eaten in the mornings, where as apples can be eaten at any time of the day.
Include these super healthy fruits in your daily food routine.
Bananas have a low acid content and act as a natural antacid. They also get rid of the bacteria that might be causing the acid reflux (11).
[ Read: Yoga Surf Retreats In The World ]
You Will Need
1/2 cup of aloe vera juice
Drink this juice half an hour before meals.
If you are prone to heartburns, drink this juice every day.
Aloe vera juice reduces inflammation in the esophagus and stomach and reduces the frequency of heartburn (12).
What Causes Heartburn?
When food enters the mouth, it passes through the esophagus into the stomach through a small sphincter known as lower esophageal sphincter (LES). When this sphincter does not close tightly, the acid from the stomach regurgitates and causes heartburn. Foods and drinks that can trigger heartburn include:
Spicy or fried food
Chocolate
Carbonated drinks
Alcohol
Tomato
Caffeine
Also, certain medications that are used for high blood pressure, anxiety, depression, heart disease, sea sickness, and birth control can cause heartburns .
What Are The Symptoms Of Heartburn?
Symptoms of heartburn, also called as acid reflux, include:-
Painful, burning sensation in the chest
Burning sensation in the throat
Discomfort
Problems in swallowing
Burping
A sour taste in the back of the mouth
What Does Heartburn Feel Like And How Long Does It Last?
When experiencing a heartburn, you feel a burning sensation in your chest and throat. You might also feel some pressure on the chest. Persistent discomfort is also usually present, and this increases when you bend or lie down. You can taste the sour acid at the back of your mouth, and to add to that, there is also difficulty while swallowing anything. It can last anywhere from a few minutes to a couple of hours(15).
Now that you know how to get rid of heartburn, what are you waiting for? In conclusion, we would only like to advise you to not get too comfortable using any of these heartburn remedies for a prolonged period of time. If heartburn is a problem that you're constantly battling with, then it is best to consult a physician and check if there's a more serious underlying cause. Prevention is definitely better than cure!